The Stables Family of Barnsley
Abraham was the youngest child of John (b.1783, Barnburgh) & Anne (née Tyas) and was born in Darfield in 1816.Unusually, he remained a bachelor until he was 44, when he married the 30-year-old widow Caroline Bowering (née Ellis) at St. Mary's Church, Barnsley. Neither Abraham nor Caroline could read or write, as they both signed their marriage certificate with a cross.
His brother, Isaac, moved to Street, near Wentworth, and became a miner. Abraham was a witness at his brother's wedding to Susannah Broom at Wath Parish Church in 1837.
Isaac was a farm labourer up to the time of his marriage to Caroline (in 1860) but later they moved to Barnsley, where Abraham became the Horse-Keeper at Mount Osborne Colliery.
The horse-keeper was required to look after the horses 365 days a year and as a result had to live at the Colliery, so that the horses could be fed and watered daily. It was a highly responsible job as the horses were extremely valuable; in fact the pit owners would rather lose the lives of several miners than the life of one of the horses.
The horses spent 50 weeks of the year below ground and only saw daylight during the two-week Summer shutdown, when the workers took their annual holiday and the horses were taken to pasture.
Abraham and Caroline spent the last forty years of their lives at No.1 Pit Yard, Pontefract Road, Barnsley, in what must have been pretty dire and filthy conditions. In spite of this, they managed to raise four sons and a daughter, there.
A letter written by his nephew Matthew in 1891 refers to Abraham being in good health he shapes up well to say that he is over 70 years old.
By the time of his son Charles's wedding in 1894, we know that he had become a gardener and was no longer working in the mine, although he continued to live there. This may have coincided with the closure of the pit, which we believe occurred at around this time.
Abraham died at the Colliery on July 24th, 1902, at the age of 86 years, from 'chronic bronchitis and senile decay', no doubt brought on by years of inhaling coal dust. His daughter, Hannah (now married to Gilbert Norton), registered the death. Caroline died four years later.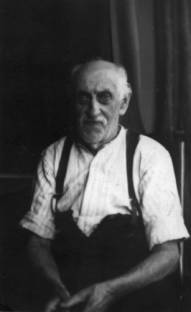 Charles Stables (1865-1947)
Charles (pictured left) was one of Abraham and Caroline's children. He was born at Mount Osborne Colliery, Barnsley on June 29th, 1865.
His childhood years would have been spent playing amongst the slag heaps with his brother's and sisters and maybe helping his father to tend the horses. By the age of 16 he was already employed at the Colliery as a labourer.
In 1894, at the age of 34, he married Elizabeth Ann Nixon. By which time the mine had closed down and he was working as a labourer for Barnsley Corporation.
They had seven children in Barnsley and then sometime between 1909 and 1913, just before the start of the First World War, they loaded all their family and possessions onto a horse and cart and moved to Bierley in Bradford. It must have been a very long journey by horse and cart, especially with seven children, aged from under four to sixteen, in tow. No one really knows why they made this journey to one of the new modern council estates, presumably it was to find work in the city.
There is a family rumour that they ran a grocers shop in Barnsley at the time they moved, but I have never been able to find any evidence of this.
After moving to Bradford, there is a period of five years when they do not have any further children.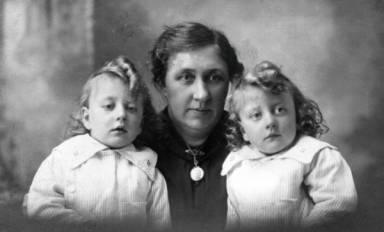 Then in 1914, Elizabeth gave birth to the twins, Charles and Ernest (pictured above). After this it is thought that their father, Charles Senior, worked as a coal miner until his death in around 1947.
Charles and Elizabeth appear to have been very proud of the twins, as there are a number of professionally produced, studio photographs of them that still survive (as follows).