The Stables Families of Wath-Upon-Dearne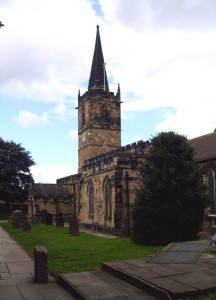 Wath Parish Church
(Photo kindly supplied by Helen Walker)
Before 1698
The parish records for Wath-Upon-Dearne reveal that Stables families were living in the Melton area throughout the early part of the 17th Century but after the late 1600s they appear to have either died out or moved away, as no further records, except for Henry Stables's marriage, occur there for over 80 years.
We do know a great deal about the Stables families who lived in Wath in the 17th Century.
1784 Onwards
The Stables families in Wath were re-established in about 1784, when Joseph Stables (b.1763, Barnburgh) married Alice Tingle at the parish church and they settled in Newhill. Then the following year his younger brother Benjamin Stables (b.1766, Barnburgh) married Martha Ely (or Heeley) and they too settled in Newhill.
Newhill was predominantly a farming area at this time but over the subsequent decades the pottery trade and mining industry became other main sources of employment.
Joseph's wife bore him no sons and so there was no heir to carry on his line. Benjamin's descendents initially worked in the mining and pottery industries and then moved into the licenced trade, running Public Houses and Inns around the Wath area and latterly at Darfield.
The majority of the information in this section of the web-site is taken from the personal research notes of Victor Stables and I would especially like to dedicate this section of the web-site in his honour.
Anecdote from Lt Col William G. Lidster
My family lived in Wath on Dearne - we initially had a Butchers Shop right next to the Wath Church - near the Wath Lock Up. We then moved to new housing in Newhill. In the early 50s, as children we used to raid the Stables orchard adjacent to Newhill Park for Apples and Pears (as children did). I recall there were just two elderly ladies living in the property at the time.
Lt. Col. William G. Lidster,
Hampton Court, Surrey.
November 30th, 2003.
Extract from The Swinton & Mexborough Times. Dated 2nd May 1902.
Annie Stables died 26th April 1902, aged 4 months, at Hallgate, Wath.
Extract from The South Yorkshire Times. Dated October 13th, 1906.
This transcript was taken from the research notes of Victor Stables.
In memoriam of William Stables. Died 14/10/1905. Aged 35. Husband of Lucy. Son of George & Martha. Buried at Mexborough.
Extract from The South Yorkshire Times. Dated May 28th, 1908.
This transcript was taken from the research notes of Victor Stables.
George Stables died, age 77, of 1 Church St. Mexborough. Buried at Mexborough Cemetery. Cortage headed by Ancient Order of Foresters (He was trustee for 40 years). Mourners included Mr & Mrs J. Stables (eldest son), Thomas (son), Mr Hy Stables & Mr J. Stables (nephews) and several married daughters.