The Stables Family of Hatfield, near Doncaster
Hatfield is a small town just North of Doncaster, where the parish records show the presence of a John Stables, with his family, at the end of the 17th century. It is a distinct possibility that this John may be the brother of Henry Stables.
Doncaster Archives hold a document listing the purchasers of pews at St. Lawrence's Church in Hatfield in 1697 and I have included photographs of the cover, title page and Stables entry here.
Up until the mid-19th century the poorer parishioners had to stand at the back in the church, as the seats were all owned by the wealthier members of the community. Purchasing a seat in church was the modern day equivalent of buying a season ticket at a football stadium. This would indicate that John Stables would have been comparatively wealthy.
Cover
St. Lawrence Hatfield Yorkshire. Names of Proprietors of Seats in 1697 and in 1746. This book was restored and rebound by R.H.T. Baster, 1903. Rev. J. Wynne-Davis, M.A., Vicar.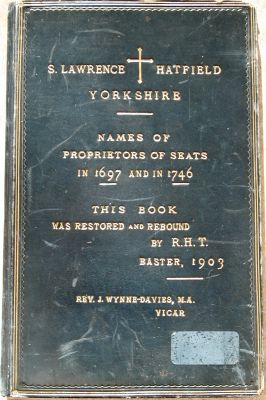 Title Page
Owners of seats in Hatfield Church.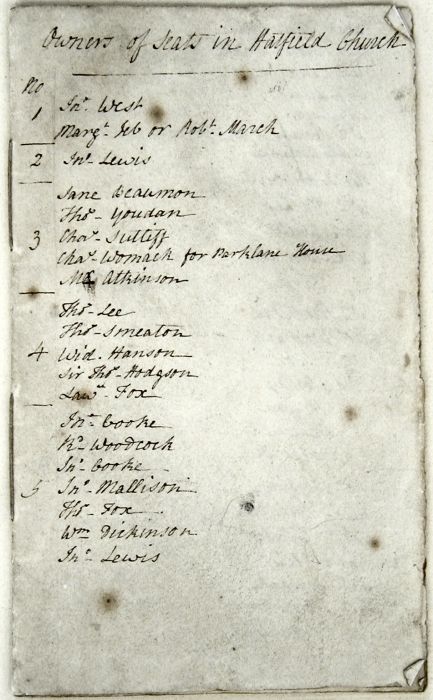 John Stables's Entry
No.32
Edward Holgate
L Simpson Thorne
Thomas Watson
John Stables
William Hobson
Thomas Coupland