The Stables Families of Bradford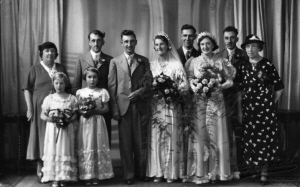 There are Stables records for Bradford that go back many hundreds of years and originate from a number of different lines. Bradford was a major source of employment during the Industrial Revolution and drew in families from many surrounding counties.
One such Stables Family, Charles Stables and Elizabeth Ann Nixon, came from Barnsley in around 1910, with all their possessions loaded onto a horse and cart. They moved to the new, then modern, council estate at Bierley.
They brought seven children with them (Mary Ann, Harry, Nellie, Lily, Abraham, William and Matthew) on the long journey. A few years later, once living in Bradford, their twins, Charles and Ernest were born.
These children remained in the Bradford area and went on to raise their own families. The majority of the Stableses in the Bradford area telephone directory today are descended from them.
The photograph above, taken at the wedding of Abraham to Edith Uphoff in the 1930s, includes the following (Left-to-Right):
Elizabeth Ann Stables (née Nixon), two unknown bridesmaids, Charles Stables, Abraham Stables, Edith Stables (née Uphoff), Unknown Best-Man, Unknown Chief Bridesmaid, Ernest Stables, Edith's adoptive mother. [Click on the picture to download a larger version, 139Kbytes].
There are quite a collection of surviving photographs of the Bradford Stables Families, which you can view/download in the Bradford Album section.