To view the transcript, click on the image
below, then move your mouse over the
writing and press the 'Expand to Regular
Size' button that pops up.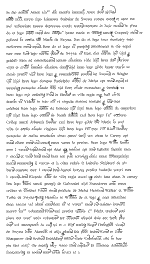 An 'ulna' or 'ell' is an old unit of length
being equivalent to the length of the forearm
(Read More).
Carsey or Kersey was a hard-wearing, weather-
proof cloth made in Calderdale (Halifax) at this
period (Read More).
In godís name Amen the 29th day of the month of January in the year of our lord 1
483 I John Stabler of Swine of sound mind and perfect me
mory ailments mortally oppressive maketh my will in this manner. First
I give and bequeath my sole unto god almighty blessed marie and all the saints My body to be buried
within the church of blessed Mary of Swine. Item I give and bequeath to pay for my funeral
my better horse. Item I give and bequeath 100/- to be distributed to the poor on the day of my burial
Item I bequeath to the parish church of Swine 10/- Item aforesaid church iijs iiijd for an
anthem Item towards the mending the footpath to the same town 4/- Item for lord's prayers
8d and the destitute inhabitants living in the same 4d Item guild of Blessed Maryís church
aforesaid 7d Item I give towards mending the bridge between Swine and Wawne
3/- 4d Item I give Lord Randolph Abbot of Meaux my best horse and
an unmarried man to be admitted as a monk at the same 2006d Item to go to the monks for a trentall 10/-.
Item I bequeath 1001d to the Order of Friars within Beverley and kingís town upon hull inhabitants
living 10/- That is in total xls namely single lordís trentals for my soulís
celebration. Item I bequeath to the church of hornsea iijs iiijd Item I bequeath to the church of Mappleton
3/- 4d Item I bequeath to the church of South Dalton 20d Item I bequeath to the friars of the church
college of Saint John Beverley 20d Item I bequeath to the guild of Blessed Mary within said
town within the church of the same virgin 4/- Item I bequeath to my priest brother Richard Beverley
monk of Meaux one thirteenth ell of woollen cloth six ells of Kersey my best
small leather bottle and all my pewter pots. I bequeath to Willm fanilo
one of my cows my best gown and two best coats. Itm Isabelle fannile one of my
cows and my entire linen Item to the only one of my eldest sisterís girls that is related by blood
living with me 2 cows and 2 pots ______ It Isabelle Shepherd of Ald
borough my cousin 1 cow. Item Agnes Herring aforesaid Isabelleís sister one of my
cows. Itm to the wife of Richard Alan the eldest of the Kingís Town two ells of Kersey
Itm I bequeath for lighting Saint George of Ganstead xijd Executors before me
ordained and constituted ____ my aforesaid of Meaux Henry Walker and William
Tothe of Swine the younger Henry and William of and bequeath for their labours
two cows or else alternatively each of them 10/- Finally my will is that the rest of my goods
to go equally ____ ____ my oath _____ ____ fidelity studied ___
_____ mark ____ ____ will before agreement upon this day before ___ persuaded
____ ____ attempt __ ___ ___ & _ ____ witness Roger Otringham vicar
of Swine John Alanson & others probate was proved pious in the presence of John
Sharparow brother Archius Estriddinge office ____ commission him in this
probate deed 28th day of the month of March Anno Dm above-mentioned And administration
was granted to the Executors in gone will named, summoned et cetera.
Apologies, for the translation not yet being complete.