The image below is a transcript of his
will and includes the original latin
shorthand and abbreviations used by
the clerics at York.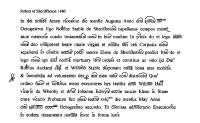 Click the image above to see the transcript.
The squiggle in the left margin is a
medieval paragraph mark.
In godís name Amen twentieth day of the month of August year of our Lord 14
80 I Robert Stable of Sherifhoton chaplain in possession of sound mind
and healthy memory make my last will in this manner At first I give and bequeath my soul
unto god almighty blessed virgin mary and all the saints of heaven My body
to be buried in the parish churchyard of Saint Elene of Sherifhoton aforesaid. Itm I give and
bequeath my best nominated head of cattle to pay for my funeral Itm I ordain and constitute the power to ijd Brother
Robert Aukland chaplain & William Stable to dispose of all my goods moveable
and immovable to godís wishes for the salvation of my soul in the presence of the jurisdiction Whom I
appoint, make and constitute my executors these being witnesses brother William Hall
vicar of Whenby and brother John Edwyn vicar of the church of Saint Helen in Stane
crate Probate was proved honest 28th day of the month of May year
of our lord 1482 and administration was granted to the executors
named within said will undertaken in the form of an oath.