Major Contributors to Stables History Research
This section of the web-site acknowledges the many generous people who have freely contributed their research to this web-site. It is their efforts and dedication that have made this such an interesting and comprehensive record of Stables Family History.
I apologise for any omissions.
Victor Stables (1925-1992, Darfield)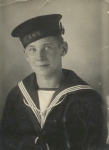 Victor Stables (1925-1992)
Victor lived in Darfield and was descended from the Stables Innkeepers of Wath. During his lifetime, he gathered an immense and important collection of research about the history and achievements, not just of that particular branch of the family, but also into the rest of their, and our, ancestors. Major sections of the web-site have been taken from his personal research notes, often verbatim. I would especially like to dedicate this web-site in his honour and to thank his cousin, Michael Chance, for continuing his excellent work and allowing it to be published on this web-site.
Other major contributors in alphabetical order of surname:
Michael Chance
Born in Barnsley and now an actor living in Brighton. Great-grandson of Oswald and Annie Maria Stables, who ran The Rising Sun Public House in Darfield.
Michael is a leading authority on the history of the Ardsley and has co-authored two books on the village, Ardsley in Times Past and Ardsley & Stairfoot in Times Past.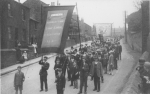 Ardsley and Stairfoot Revisited by Michael Chance & Tony Heald
His latest book
Ardsley & Stairfoot Revisited
was released on December 10th, 2008 and is available from Barnsley Archives, Chris Sharp's
Old Barnsley
stall on Barnsley Market or directly from Michael via this web-site.
He is an active volunteer at Barnsley Archive, having produced the Chance Transcripts of the Ardsley Census Returns for them. He has also contributed a vast collection of his own Stables Family research for inclusion on this web-site.
Email Michael at michael@stablesfamily.co.uk
Marian Crew
Born on DDay - 6 June 1944, of parents George and Muriel Musgrave, nee Stables, in Dartford in Kent, the eldest of five brothers. Her father was a Congregational Minister at that time, so her early life was spent in Greenwich, Christchurch in Hampshire and from the ages of 6 to 10, in Georgetown, Guyana. Returning to England, her father, who is also an artist, took to designing plastic models and started up his own company, GE Models. Her teenage years were spent in Croydon, Surrey.
Trained as a registered nurse at The London Hospital (now the Royal London Hospital) in Whitechapel. After also completing Midwifery training, in 1967, she set sail as an immigrant for Australia under the £10 scheme, with a friend. They worked as nurses around Australia for the first two years, and both married Australians.
Her husband, Chas Crew, now retired, was a marine engineer, and she has two boys and a girl. Charles is an electrical engineer, Peter an industrial chemist, (working in Nottingham), and Rachel teaches the violin. She continued nursing for some years and also became a medical receptionist, but her life has always been very full and varied following her children's scholastic, music and sporting careers and being involved as a secretary for Church and other organisations. Started genealogy in 1988 and has also been learning French for about 10 years.
Now lives in a small rural town about 85 kms north of Perth in an old house on an acre of land, so is always very happily employed in some way. At the moment she is writing up her main family lines and helping with our research into the Harewood Branch of the Stables Family.
Reg Dyson
Born in Thurnscoe and now living in Otley, West Yorkshire. Retired in 1997 after 31 years as a Senior Engineer at Carnaud Metalbox, designing machines to make soft drink cans, and before that 19 years as a printer's engineer, developing the first ever automatic printing machines in the 1950s. Grandson of Mary Ann Stables and Charles Podmore of Darfield.
Malcolm Grant
Malcolm lives in Armthorpe and has been gathering information on the history of Armthorpe for quite some time.
During his research he has uncovered numerous references to Stables family members, which he has very kindly passed on for use on the web-site.
He is not related to the Stables family himself but is researching the surname 'Grant'.
Peter Hirst
Born in Manchester and now living in Swansea. Great-Grandson of Emma Stables and John Hirst of Wentworth.
Mary Lindsey
Now living in Alcester. Related to Charles and Hannah Elizabeth, who ran The Beehive Inn at Wath.
Sean Moore
Now living in Harpenden in Essex. Great-grandson of Mary Stables and John Woolhouse of Sheffield.
John Purcell
Born in Wath-upon-Dearne in 1942 and grandson of Albert Stables and his wife, Florence Evans, who ran the The Crown Inn at Newhill in the early 1900s.
Karen Rowe
Née Simpson and living in Toowoomba, Queensland, Australia for the last 17 years. Married with two sons (Aron and Damon) and two daughters (Kasey and Carmen), and has just become a grandmother for the first time (Dec 2003). A member of the Toowoomba and District Family History Society and at present is the Journal Editor of their magazine 'The Gazette'. She is currently gathering information about local soldiers from World War I and placing this into a database for future reference at the Society's Library.
It was Karen who realised the importance of the Allerton Bywater Tree that enabled us to extend the Stables Family Tree back to 1531. She is a descendent of Henry's daughter Ann.
Margaret Smith (née Stables)
Born in Wath-Upon-Dearne and now a teacher living in Huddersfield. Daughter of Ervin Walter Stables and Rachael Marguerite Burdin of Wath.
Andy Stables
Born in Bradford and now a web developer living on the Isle of Skye. Great-grandson of Charles Stables and Elizabeth Ann Nixon of Barnsley.
Started this web-site in 2002 and spent virtually all of his spare time maintaining and updating it in its first few years. Alison, his wife, is a most understanding and patient woman!
Email Andy at andy@stablesfamily.co.uk
Brian Stables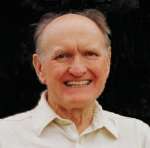 Brian Stables
Born in Tickhill in 1929 and emigrated to Canada in 1976. He died in 2012. Grandson of William Richard Stables and Lily Jackson of Tickhill.
You can read Brian's excellent autobiography here.
Darren Stables
Born in Rotherham and now living in Rawmarsh. His first job was at Charles Hague's in Parkgate, a well known drinks retailer who made their own soft drinks. Nigel Hague, father of William Hague MP, was his boss. Joined the navy in 1991 as a marine engineer and went on to specialise in the electrical side, serving mainly on frigates. Reached 'Leading Hand'. He left in 1998, marrying the same year and is now a senior engineer at ABB, working on combined heat and power plants in the north of England. He is the great grandson of Samuel William Bisby Stables (b. 1875 Parkgate).
Trevor Stables
Born in Tickhill. A Registered Nurse, ex Doncaster Borough Councellor and SDP Parliamentary Candidate for Doncaster Central, 1983. Worked latterly as Managing Director of a Healthcare Company. He has lived and worked in Denmark, Spain and Honduras. Speaks Danish, Norwegian, Spanish and German. He is now self employed and living in Wood Enderby, Lincolnshire, with his partner Dick. He is a Great-Grandson of Edward William Stables (b.1876 Tickhill).
Margaret White (née Stables)
Born in Tickhill and now living in Chesterfield. Grand-daughter of Harry Stables and Dorothy Keeble of Tickhill.
Martin Wood
Now living in Melton Mowbrey, Leicestershire and a descendent on his mother's side from Sir Thomas More.
Martin currently gathering material to write a story of the descendants of Sir Thomas More which he hopes he may, eventually, be able to get published.