Newspaper Cuttings Mentioning Stableses in Barnsley
Extract from The Times
dated Monday May 3rd, 1880
(Page 6, Left Hand Column).
This article was very kindly supplied by Michael Chance.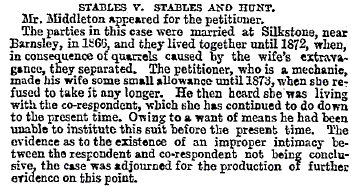 STABLES v. STABLES AND HUNT
Mr. Middleton appeared for the petitioner.
The parties in this case were married at Silkstone, near
Barnsley, in 1866, and they lived together until 1872, when,
in consequence of quarrels caused by the wife's extrava-
gance, they separated. The petitioner, who is a mechanic,
made his wife some small allowance until 1873, when she re-
fused to take it any longer. He then heard she was living
with the co-respondent, which she has continued to do down
to the present time. Owing to a want of means he had been
unable to institute this suit before the present time. The
evidence as to the existence of an improper intimacy be-
tween the respondent and co-respondent not being conclu-
sive, the case was adjourned for the production of further
evidence on this point.
Michael was searched the parish register for Silkstone to discover who the couple were and this is a transcript of their entry in the marriage register.
All Saints' Church, Silkstone, Yorkshire
When Married
Name
Age
Condition
Rank or
Profession
Residence
Father's Name
Rank/Prof
of Father
May 21st, 1866
John Wiloughby Stables
23
Batchelor
Mechanic
Barnsley
Luke Stables
Quarryman
Ann Elizabeth Graham
20
Spinster
Barnsley
John Graham
Baker
Witnesses were John Ford and Beamish Bailey.
Extract from The South Yorkshire Times. Dated September 2nd, 1892.
This transcript was taken from the research notes of Victor Stables.
Isaac Stables of Barnsley married Lucy Ellen Insull of Darfield at Barnsley Register Office.