Isaac Stables (b.1811 Darfield, d.1845 Street)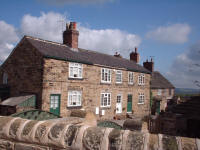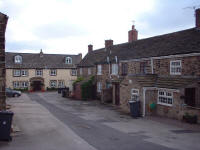 These photos of Street, were kindly
supplied by Pat Simpkins
(Click to enlarge)
Isaac, the son of John and Ann Stables, was born in Darfield and baptised at the Parish Church on April 7th,1811.
He went to work in the nearby parish of Wath, where he met and married Susannah Broom, the marriage taking place on January 23rd, 1837 at Wath Parish Church. His brother, Abraham, was a witness at the wedding.
Susannah was the daughter of William Broom and Mary Hewerdine of Cottesmore in Rutland and was baptised at Cottesmore on November 9th, 1817.
In 1841, Isaac and his family lived at the hamlet of 'Lee Brook' in the Brampton Bierlow district, where he was employed as an agricultural labourer.
Isaac and Susannah had five children: Mary Ann (b.1837), George (b.1839), Elizabeth (b.1841), Jane (b.1843) and Emma (b.1845).
On August 27th, 1845, he died suddenly, of a stroke, whilst at work in Stubbin Pit, near Rawmarsh. He had been unwell for a fortnight and it was his first day back at work. A work-mate found him laid on a corve. He was buried at Wentworth Church on August 31st, 1845, aged 33 years.
After Susannah was widowed, her brother, Henry Broom, went to live with the family.
She had three more children, outside of wedlock, after her husband's death: Samuel William (b.1848), Hannah (b.1850) and Henry (b.1856). The father is believed to have been John Bisby, a butcher, who was the son of Samuel & Hannah Bisby.
On December 30th, 1857, Susannah re-married, marrying Joseph Haigh a miner from Street. He appears on the census to be ten years her junior, being the same age as her eldest daughter, Mary Ann. At least two more children: Joseph and Harriet, were born to her second husband.
This biography is updated from an original written by Victor Stables, with additional information provided by Pat Simpkins.
Sudden Death of Isaac Stables (b. 1811, Darfield)
This is a report of the sudden death of Isaac Stables that was published in the Sheffield & Rotherham Independent on August 30th, 1845 and a copy of his death certificate. These images were very kindly provided by Peter Hirst, who is a great-grandson of Isaac.
| | |
| --- | --- |
| | SUDDEN DEATH. – On Wednesday afternoon, Isaac Stables, of Street, near Wentworth, an industrious and steady man, died suddenly in Stubbin Pit, near Rawmarsh. He had been seen but a short time before by a fellow workman, who, when he returned, found Stables laid on a corve, nearly dead, it is supposed from natural causes, as he had been unwell about a fortnight, and it was the first day he had commenced work. |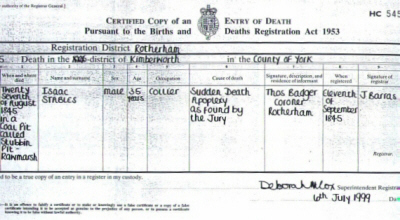 His death certificate reads: Twenty Seventh of August 1845 in a coal pit called Stubbin Pit – Rawmarsh, Isaac Stables, Male, 35 Years, Collier, Cause: Sudden Death Apoplexy as found by the Jury, Informant: Thomas Badger Coroner Rotherham, Registered: Eleventh of September 1845, Registrar: J. Barras.
This newspaper article and accompanying death certificate were very kindly provided by Peter Hirst, who is a great-grandson of Isaac.