Henry Stables, Parish Constable of Barnburgh, 1725
Henry Stables was appointed the Parish Constable for Barnburgh for the year of 1725, a role which was appointed annually to each of the village elders in turn and each was responsible for keeping detailed accounts of his expenditure during his year as Constable.
The following is a definition of the role of a Parish Constable, taken from 'The Local Historians Encyclopedia' by John Richardson (ISBN 0 9503656 7 X).
Constable
An officer appointed by the Manor or Parish with a wide range of duties, which varied over the centuries. They included:
| | |
| --- | --- |
| | Supervision of the Watch or Ward. |
| | Upkeep of the stocks, lock-up or any other means of punishment and imprisonment. |
| | Inspection of alehouses and the suppression of gaming-houses. |
| | The apprenticing of pauper children. |
| | The supervision and removal, where necessary, of itinerant strangers and beggars. |
| | Collaboration with other officials in the relief of the poor. |
| | The collection of the county rate and of any specially levied national tax. |
| | The maintenance of the parish arms and the training of the local militia. |
| | The convening of parish meetings. |
| | The care of the parish bull. |
| | The presentation of parishioners who did not attend church regularly. |
| | Assistance at shipwrecks in the locality. |
| | The apprehension and detention of suspected criminals. |
| | The arrest of escaped prisoners. |
| | The suppression of riots and unlawful assemblies. |
| | The compilation of jurors lists. |
| | The collection of child maintenance from fathers of illegitimate children. |
Henry Stables Accounts being Constable for the year 1725.
£

S

d

Paid to Chief Constable as acquittances

2

9

3½

Charges in paying the money at several times

0

3

0

Paid for a warrant for overseers of the highways

0

3

0

Paid for viewing the fences and drinking of ale

0

6

6

Paid at Conisbrough Courts

0

4

2

Paid to John Wordsworth upon Mexbrough Court

0

4

6

Paid at the Brewers Assessions at Doncaster

0

3

0

Paid at Conisbrough Court

0

4

6

Paid for warrant at the Chief Constable and charges

0

3

0

Paid at the signing of an Assessment

0

1

0

Paid for mending the town's field gate

0

0

6

Paid for mending the cliff gate

0

0

6

Paid for mending the Holmes gate

0

0

6

Paid to 3 travellers

0

0

6

To 2 travellers

0

0

4

To another

0

0

1

Given to a man with a pass

0

0

6

Given to a woman with a pass

0

0

3

Given to 3 travellers

0

0

2

Given to a man with a pass

0

0

6

Paid to Chief Constable as an Acquittance

3

6

10

Paid for a drift of beast and sheep

0

4

Paid for another drift

Paid to Samll Broughton as Acquittance

For signing an assessment

For gathering 2 assessments

For 2 duplicates for the officers for the Land Tax

e window money

To 3 travellers with a pass

To 2 women with a pass

To 2 sailors with a pass

For two warrants sending to Melton

To Will Linley being out of pocket

For setting down 2 stoops at a gate to Ludwel

For passing these accounts

For going to pay the Chief Constable

0

1

0

For going to Wakefield to deliver in a bill about the Game

Ale tasting and fences viewing

0

3

3

Mexbrough Court. Thomas More.

0

2

6

Paid to the Chief Constable

1

5

8½

John Fletcher's bill

0

12

6

To John Dison and John Cooper for Pinfold

0

1

0

Abated for Dead Goods

0

These accounts were passed and
allowed by those whose names are
underwritten:
Geo Mompesson, Tho: Hutchinson
John Roberts, Thomas Hall,
John Mathewman

0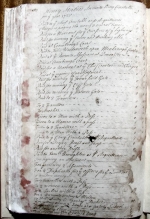 Henry's Accounts 1725 - Page 1
The different kinds of expense that he incurred, during the course of his duties, fit in perfectly with the description of a Constable. Notice in particular the references to 'ale-tasting' and the fact that he was paying money to travellers (gypsies) in order to get them to move on.
The names of the signatories to these accounts have proved to be very interesting as well. Thomas Hutchinson is the father of Henry's wife, Sarah, i.e. Henry's Father-In-Law.
Thomas Hutchinson married Elizabeth Fostard in Wath on April 9th, 1667 and they had Sarah. Elizabeth later died and Thomas was re-married to Mary Roberts at Barnburgh Church on April 4th, 1706. I think it would be a safe bet that John Roberts was one of his in-laws. George Mompesson was the Rector of Barnburgh and was the only son of William Mompesson, the famous and heroic rector of Eyam at the time of the Great Plague.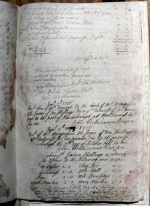 Henry's Accounts, 1725 - Page 2
There is a brass tablet inside the church in memory of the death of his wife, Alice, in 1716. John Roberts and Thomas Hall are both listed on boards inside the Church recording charitable donations, John leaving a total of £20 (in 1732) and Thomas £15 (in 1728). Considerable sums of money at the time.
I have included photographs of both pages of Henry's accounts here:
Luckily for us, the parish accounts for Barnburgh are still in existence and held by Doncaster Archive Services. This amazing book is almost 300 years old and hand-written in ink on very fragile paper. It is incredible to think that a document describing a year in the life of one of our ancestors still survives after such a long period of time.
The following text is a transcript from the Barnburgh Parish Accounts for the year 1725, which was when Henry served his year as the Parish Constable: