Albert Stables (1882-1955, Wath)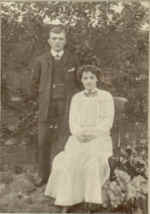 Albert & Florence Stables, 1908
(Click photo to enlarge)
Albert Stables was the eldest son of Oswald Stables and Annie Maria Vaughan and was born just before his father entered the licenced trade. His childhood years would have been spent living in The Rising Sun at Darfield, where his father became the licencee around 1891.
On January 14th, 1908, he married Florence Evans, the daughter of a miner, Frederick Evans, at All Saints' Church, Wath-upon-Dearne. At this time he was working as a barman at the Cross Keys in Wath. Their first child, Albert Leslie was born the following November at Burlington Terrace in Wath, where they were living.
By 1911, Albert had taken his own Pub, having become the Landlord at The Crown Inn in Newhill. His other two children, Oswald and Ethel Amanda, were both born there, in 1911 and 1914, respectively.
Anecdote
One of my most vivid childhood memories was of my grandfather telling me of the day in 1912 when he bicycled from Newhill to Bramall Lane, Sheffield to watch the F.A. Cup Final replay, when Barnsley beat West Bromwich Albion, and of his detailed description of the only goal of the game.
John Purcell (Albert's Grandson)
Sometime around 1920 they moved to their second public house, the Cross Daggers at Bolton-On-Dearne.
They were there during the financially difficult times of the 1926 miners' and general strikes and, after a spell at the Scarborough Arms, a beer house on the outskirts of Doncaster, they left the licensing trade.
Albert was then employed for a short spell at the Waterworks in Wath before finishing his working life as a Timekeeper at Wath Main Colliery.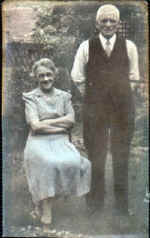 Albert & Florence in their
retirement years. (Click photo
to enlarge)
He died on January 12th, 1955 and was buried at Wath Cemetery.
His memorial inscription reads:
In Loving Memory of
Albert Stables
Born 22nd June 1882
Died 12th January 1955
And his wife
Florence Stables
Born 18th December 1885
Died 29th January 1968
Many thanks to John Purcell, Albert's grandson, for supplying the photos and information used on this page.