Oswald Stables (b.1859 Wath, d.1935 Darfield)
Oswald (pictured left) was born at Newhill on November 8th, 1859 and was the son of James Stables and Mary Stenton. His father being a potter at the time.
On leaving school he took up employment as a colliery clerk, by which time his father had become the landlord of The New Inn on West Street in Wath.
In 1881 he married Annie Maria Vaughan, the daughter of a miner, at the parish church in Rotherham. This was seven months after the birth of their first child, Mary Ann.
The 1881 census shows that this child was recorded as Mary Ann Stables Vaughan prior to the marriage and that she was living at the home of her mother's parents.
Shortly after the marriage, in around 1885, Oswald entered the licensed trade, first at
The Queen's Hotel
in West Melton, then at
The Prospect Tavern
in Hoyland, before finally moving to
The Rising Sun
at
Darfield
in 1891.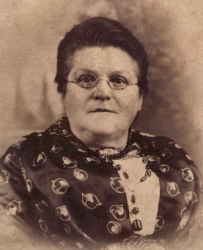 Oswald and Annie (pictured right) had an incredible
17 children
(11 sons and 6 daughters) in total. Two of their daughters died during childhood and have a
memorial
in Darfield Churchyard.
Oswald's
obituary
reveals that he was a member of
The Manchester Unity of Oddfellows
for nearly 50 years and during the Boer War he was treasurer of the
Darfield Patriot Committee
.
Oswald owned several rented properties and one block of terraced houses which was built in 1902 bore his name: "Oswald Terrace".
By September 1916, five of
his sons
were on active service in the First World War. James, Oswald, Denis and Arthur were serving with the Yorkshire & Lancashire Regiment, whilst Horace was in the Army Veterinary Corps. Another son, Ernest Victor, was to follow soon after.
Annie Maria died in 1924 after a long and painful illness. She had been a generous supporter of the churches of the township during her 33 years at The Rising Sun. Amongst the mourners at her funeral was George Henry Hirst (a.k.a. Harry Hirst), the Member of Parliament for Wentworth, who was the son of Emma Stables, a very distant cousin of Oswald.
Owing to ill health, Oswald retired in 1932 and his son, Ernest Victor, temporarily took over the running of The Rising Sun.
During his later years, he was confined to bed at the home of his daughter, Ada Bellamy, of 11 College Terrace, where he died on 20th June 1935, aged 76.
This biography is based on an original that was written by Victor Stables and included amongst his research notes. The photographs were very kindly supplied by Michael Chance.
This is a full transcript of Oswald's will, which is held at First Avenue House. This was kindly supplied by Michael Chance.
I OSWALD STABLES of the Rising Sun Inn Darfield in the County of York Licensed Victualler declare this to be my last Will which I make this fourteenth day of May One thousand nine hundred and thirty one hereby revoking all other Wills & testamentary dispositions by me heretofore made.

1. I APPOINT my sons Albert Stables & Oswald Stables (hereinafter called my Trustees) to be executors & trustees of this my Will.

2. I GIVE to my son Douglas Stables my gold watch & chain free of duty.

3. I GIVE devise & bequeath all the real & personal property whatsoever & wheresoever of or to which I shall be seised possessed or entitled at my death or over which I shall then have a general power of appointment or disposition by Will (including any property in which I have an entailed interest in possession) to my Trustees UPON TRUST to sell & call in the same with power to postpone such sale & calling in indefinitely without being responsible for loss And I direct that the income of the unsold part thereof for the time being shall be applied in the same manner as if it were income of investments of the proceeds of sale & calling in thereof. MY TRUSTEES shall out of the money to arise from the sale calling in & conversion of or forming part of my real & personal property pay my funeral & testamentary expenses & debts & any legacies given by this my Will or any Codicil hereto & the duty on any legacies hereinbefore given free of duty & shall hold the residue of the said money & the property for the time being representing the same IN TRUST as well the capital as the income thereof for all & any my children or child living at my death & the children or child then living of any then deceased child of mine who whether children or grandchildren being male attain the age of twenty-one years or being female attain that age or marry if more than one in equal shares as tenants in common but so that the children of any deceased child of mine shall take equally between them as tenants in common only the share which their parent would have taken had he or she survived me & attained a vested interest.

5. I DIRECT that any moneys accruing due to my grandson Jack Chance (son of my deceased daughter Rhoda Wilhelmina) or to his father or guardian on his behalf under an endowment policy of insurance upon his life taken out by my wife & kept up by me shall in default of any direction to the contrary in writing under my hand be taken in or towards satisfaction of any share of my said grandson in my estate under the trusts aforesaid & shall be brought into account in the way of hotchpot as against him in the division of my residuary estate.

6. MY TRUSTEES may at their discretion apply the whole or any part of the income of the share to which any minor shall be entitled in expectancy & would if of full age be entitled in possession under the trusts hereinbefore contained for his or her maintenance education or benefit in such manner as they may think fit & may either themselves so apply the same or may pay the same to the parent or guardian of such person for the purpose aforesaid without seeing to the application thereof And shall invest the surplus income (if any) & the resulting income thereof in any investments for the time being authorised by law for the investment of trust funds in augmentation of the capital of such share.

IN WITNESS whereof I have hereunto set my hand the day & year first before written.
This is the full inventory and valuation of Oswald's possessions that was taken at the New Inn in Wath in 1886 when Oswald was moving out of the Pub and his brother William moving in. It is taken from the records of Lancaster & Son, Auctioneers & Valuers of Barnsley. The books of Lancaster & Son are now held at Barnsley Archives.This was kindly supplied by Michael Chance.
An Inventory & Valuation of The Furniture, Fixtures, Fittings & other
Effects at The New Inn Wath upon Dearne From Mr Oswald Stables to Mr
William Stables made the 19th February 1886.

No.1 Bedroom
Sunblind & roller

1s

6d

Stained Dressing Chest

£1

2s

6d

Mahogany Box Dressing Glass

4s

6d

3 Cane seated Chairs

9s

-

2 Pold. Birch Chairs

12s

-

12 Yards Scotch Carpet

10s

-

Metal fender

2s

Double Chest Oak Drawers

£1

5s

-

No.2 Bedroom

| | | | |
| --- | --- | --- | --- |
| Iron Fr: Bedstead. Straw Palliasse | | 17s | - |
| Flock bed bolster & 2 pillows | | 10s | - |
| Birch Camp Bedstead. Straw Palliasse | | 15s | - |
| Flock bed. bolster & 2 pillows | | 12s | - |
| 5 piece Chamber Ware | | 3s | - |
| Oblong pedestal Ale Table | | 5s | - |
| Table with 2 drawers | | 6s | 6d |
| 6 Yards Oil Case | | 3s | - |
| 3 Yards Dutch Carpet | | 1s | 6d |
| 1 Rush seated Chair | | 2s | 6d |
| Wire gauze Meat Cover | | 2s | - |
| 3 Dozen Pint Pitchers | | 7s | 6d |
| 1/2 gross Pipes. Sunblind & roller | | 3s | - |

Back Bedroom

Iron Fr: Bedstead Straw Palliasse

£1

2s

6d

Flock bed. bolster & 2 pillows

12s

-

3 lengths Druggetting

6s

-

1 length Oil Case

1s

-

Mahogany tray Glass

3s

-

Striped Sunblind & roller

2s

3 Plaster Heads. 2 Prints & glass Salt

1s

6d

Landing

Bar Room

Steel md. Fender

5s

-

Ashes Pan

4s

6d

Oil Cloth on floor

9s

2 Round Ale Tables

12s

-

Loise? railed backed Form in Ain: cloth

6s

6d

2 Lengths railed backed Seating 19ft

£1

7s

-

Panelled Bar Casing with narrow Counter Top & 1 upright 9 . 3 x 4ft

15s

-

Nest of 5 Glass Shelves as fixed to Wall

6s

6d

Bottle shelf. Broad shelf over

3s

6d

Bracket shelf over Entrance

1s

-

1/2 glazed Inner Door & Casing with two slide windows 3ft 9 x 7ft 9

£1

12s

6d

4 Pull Beer Machine with piping & taps

£6

6s

-

3 pewter Measures

7s

-

Tin funnel. Small Cullender. 2 Tin Ale leans?

3s

-

3 half gallon Pitchers

2s

-

3 Quart Pitchers

1s

-

26 Pint Pitchers & Pots

5s

-

61 Ale Glasses

12s

-

5 Goblet

2s

-

1 Tin Waiter. Gas pendant & Tin shade

3s

-

8 Days Bracket Clock

£1

1s

-

Set of 4 Coloured Glass Spill Vases. 2 Small Spill Vases

3s

-

3 Metal Spittoons

1s

6d

Sunblind & roller

1s

6d

1 Brass Hand Tap

1s

-

Tap Room

| | | | |
| --- | --- | --- | --- |
| 2 Old fenders | | 1s | - |
| 2 Spittoons | | 1s | 6d |
| Deal Table with 2 drawers | | 7s | - |
| Pedestal Table | | 5s | - |
| 12ft 2 Railed backed Forms | | 10s | - |
| 2 Short forms in recesses | | 4s | 6d |
| 5 lengths Balled Backed Seating with 4 Elbows & Guard to Pianoforte 35ft | £2 | 2s | - |
| 3 Loose forms | | 14s | - |
| 9 Ale Stools | | 15s | - |
| Piano Stool | | 2s | 6d |
| 33 Common Ale Glasses | | 6s | - |
| 20 Plain Glasses | | 5s | - |
| 32 Cups & Saucers | | 5s | - |
| 4 Egg Cups & 8 bone spoons. Glass Mug. 15 Various Tea Spoons | | 4s | - |
| Cheese Tray. 5 Meat Dishes | | 4s | 6d |
| 6 Sauce Boats & 1 lid. 7 Vegetable Tureens & 6 Covers | | 5s | - |
| 16 Glass Mustards. Salts & Peppers | | 3s | - |
| 3 Bakers & 3 Jars. 6 Pie Dishes | | 3s | 6d |
| 49 Dinner Plates | | 6s | - |
| 23 Cheese Plates | | 2s | - |
| Bagatelle Board with slate bottom. 9 balls. 1 Cue. Marking Board. Deal Cover | £5 | - | - |
| 4 lengths Glass Shelves | | 10s | - |
| Semi circular Glass Shelf | | 1s | - |
| 2 Gas Brackets & 1 Shade. Gas Pendant | | 8s | - |
| Engraving Death of Nelson | | 3s | - |
| 2 Prints in Black frames | | 5s | - |
| 3 Coloured Prints | | 3s | 6d |
| Pianoforte Staging | | 6s | 6d |

Kitchen

| | | | |
| --- | --- | --- | --- |
| Metal Tidy | | 1s | - |
| 3 Iron Saucepans | | 3s | - |
| 4 Drip Tins. 2 Ale Warmers | | 2s | 6d |
| Cullendar & Steamer. Old Hastener | | 1s | 6d |
| 3 Spell Vases | | 2s | - |
| Table with 2 drawers | | 6s | - |
| Round Ale Table | | 4s | - |
| Nest of 4 Shelves | | 4s | 6d |
| 3 Zinc Pails. Coal Scuttle | | 3s | - |
| Water pot. Lading Can. 2 Brown Bowls | | 2s | - |
| 10 plates . Tea Pot. Glass Sugar Basin | | 3s | - |
| Waiter & Sundry Crockery | | 2s | - |

| | | | |
| --- | --- | --- | --- |
| 6 Bone hafted Knives & forks | | 5s | - |
| 8 pieces Black hafted Knives & forks. 2 pairs Carvers | | 3s | 6d |
| Towel Case & roller | | 1s | 6d |
| Windsor Chair | | 4s | 6d |
| 2 Scrubbing Brushes. 2 Glasses | | 2s | - |
| Frying pan & Candlestick | | 1s | - |
| Gas Bracket | | 2s | - |

Cellar

| | | | |
| --- | --- | --- | --- |
| Extra Machine Tap? | | 2s | - |
| Spanner & Mall | | 3s | - |
| Bread pot | | 1s | - |

Yard

| | | | |
| --- | --- | --- | --- |
| Water Butt & length lead pipe & tap on Sink | | 10s | - |
| Soft Water Butt | | 7s | 6d |
| Allowance for Double Doors & frame to Stable | | 7s | 6d |
| Wood Shed & Carriage House Iwer? Stable door with 6 spars | £1 | 1s | - |
| Wood Front & roof to Pig Stye | | 15s | - |
| Framework & trelliswork forming Hen House | | 12s | - |

Wash House

| | | | |
| --- | --- | --- | --- |
| Club Table Top. 2 Tressels | | 7s | - |
| 2 Bread pancheons | | 2s | - |
| Dolly Tub & dolly | | 4s | 6d |

Front

| | | | |
| --- | --- | --- | --- |
| Gas Piping from Meter in Tap Room to burners throughout | £1 | 7s | - |

| | | | |
| --- | --- | --- | --- |
| Licenses | £3 | 15s | 3d |
| Gone | £1 | 7s | 3d £2 8s |

Settlement

| | | | |
| --- | --- | --- | --- |
| Mr James Stables | £35 | - | - |
| Balance from Mr Stables | £17 | 7s | - |
| | £52 | 7s | - |