Samuel William (Bisby) Stables (b. 1875 Parkgate) and Janet Eliza Dent
This biography and accompanying photos were very kindly supplied by Darren Stables of Rotherham. The biography was originally written by Peter Veitch.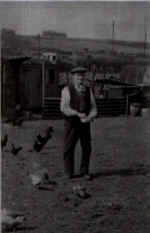 Samuel William Stables
(1875-1953)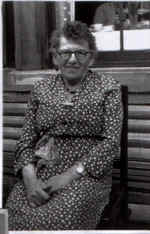 Janet Eliza Stables (née Dent)
(1879-1967)
Janet Eliza Dent, the daughter of George Albert Dent and Ann Mariah Lowe, gave her age as 20 on her marriage certificate but her birth certificate suggests that she was only 18. Their marriage took place at Parkgate Parish Church on April 11th, 1898.
Upon marrying, the couple moved out of Samuel's parents' house to a house just a few places away at 34 Holm Flatt Street, where they remained for the rest of their lives.
This house, like all the others in the street, had just a kitchen/dining room, front sitting room and two bedrooms. It was a cold water house with an open fire. The sewage was just an earth lavatory outside that needed to be emptied periodically by way of digging out the effluent. There was a cellar that was used for storing fuel (in this case coal) and, before the development of refrigerators, this room underground was cold enough to keep perishable foods fresh for a few days. The facilities available were very meagre.
In that house in the 1920s lived Samuel and Janet with seven children of mixed sex and, to increase congestion, the eldest daughter, Blanche Amelia, took the front sitting room when she married Cecil Peter Veitch in 1921.
Lack of education was a problem because schooling had to be paid for and few females were given the opportunity, indeed, Janet Eliza could neither read nor write throughout her life. However, this didn't prevent her from becoming a very capable lady, well able to manage a large family with very little means.
Her father, George Albert Dent, gave his occupation as a Brass Turner on his marriage certificate and, apart from the fact that he came originally from Sheffield, very little is known of him, or his family, except that he lived to be a very good age.
Her mother was Ann Mariah Lowe, the eldest sister of Francis Lowe, who started the Watchmaker and Jewellers Shop in Frederick Street (site of the current Bus Station) moving eventually into larger premises in Effingham Street when the alterations were made to College Square in 1931.
Ann Mariah Lowe was born on July 16th, 1851 to Francis Lowe and Eliza West at Foleshill in the county of Warwick. In order to confirm this latter connection, I tried on a couple of occasions to contact the cousins, Rex and Francis Lowe, who eventually sold the Jewellers business to H. Samuels, but having been rebuked I concluded that perhaps they were afraid I was some obscure member of the family who was seeking some monetary gain from the association.
Samuel William went to work underground, at a very early age, as a pony driver. When he grew older he graduated to the coal face, as a miner, in seams that necessitated lying full length and hewing the coal with just a pick. This, of course, was in the days when mines were privately owned and well before mechanisation as is known today.
He maintained this underground employment until well into his seventies, although not in such a strenuous occupation.
Samuel William Stables (Bisby) lived with his parents and siblings at 24 Holm Flatt Street, Parkgate.
This house was in a street of terraced dwellings and its accommodation was just two rooms upstairs and two rooms downstairs with an earth toilet outside.
The big problem though was sleeping arrangements, with such big families of mixed sex. This was made even more problematical at this address when you consider that his future wife gave this same address on her marriage certificate.