The "Stables of Allerton Bywater" Tree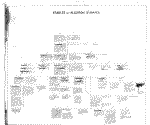 The Allerton Bywater Tree
(103K, click to download)
To read the Tree, download and
select View --> Fullscreen.
Ninety years ago, in 1913, Edward Stables of Merton in Surrey produced his Family Tree. This was the culmination of what must have been years of painstaking investigation into the origins of his ancestors.
His Tree, entitled Stables of Allerton Bywater, was meticulously written out by hand, including not just names but exact places & dates of birth, marriage, burial and residence. Their occupations, property and the dates of writing and proving of their Wills.
His research spanned not just Yorkshire, but England, Ireland, the West Indies, India and Australia. It goes back to around 1531.
We have no idea what became of this Tree until 1985, when a copy of it was sent to Neil Stables, the leading researcher of the Harewood Stables families, by John Nussey of Chester. Their acquaintance having been made through a shared interest in the surname 'Hainsworth' that had married into the Stables family.
Some years later, Karen Rowe of Australia, who had received a copy from Neil, realised the importance of the Tree to our research and forwarded a copy to us.
We have now cross-checked and verified the incredible information that it contains. The following is a transcript of the details for the direct ancestors of Henry Stables, as written on the Tree:
Christopher Stable (1531-1565)
of Astley par. of Swillington, co Yorks. Yeoman. Buried 18 Dec 1565 at Swillington. Will dated 15 Dec 1565. Proved at York 2 May 1566.
+
Joanna Chambers ( -1599)
married 29 Jan 1552/3 at Swillington. Buried 13 Feb 1598/9 at Kippax.
|
|
Thomas Stable (1563-1640)
of Astley par. of Swillington, co Yorks. Yeoman. Bapt. 25 Feb 1562/3 at Swillington. Buried 28 Mar 1640 at Swillington. Will dated 10 Jan 1639/40. Proved at York 16 Sept 1640.
+
Elizabeth
|
|
William Stable (1599- )
of par. of Swillington and Allerton Bywater par. of Kippax, co Yorks. Yeoman. Bapt. 9 June 1599 at Swillington.
+
Ann Browne ( -1617)
of Barwick-in-Elmet. Mar. Licence dated 1617. Buried 3 Nov 1618 at Kippax, co of Yorks.
Agnes Rhodes (1592-1623)
of Warthorpe, Mirfield co Yorks. Bapt. 25 Feb 1591/2 at Mirfield. Mar. by licence 1 Jun 1619 at Mirfield. Buried 3 May 1623 at Kippax.
|
|
William Stables (1620-1663)
of Allerton Bywater, par. of Kippax co Yorks. Yeoman. Bapt. 12 Mar 1619/20 at Kippax. Buried 12 May 1663 at Kippax. Will dated 8 May 15 Charles II 1663. Registered at York Vol 46 1663-65 fol 312.
+
Ann Tomlinson (1625- )
2nd dau of William Tomlinson of Burne co York and his wife Jennet dau of Thomas Monet of Haddlesey co York. Bapt 22 May 1625 at Brayton co York.
|
|
Henry Stables (1660-1749)
bapt 25 July 1660 at Kippax. ob ante 1749.
He is shown on the tree as having children: Thomas, William, Morret and Ann.
+
This is Karen's Story of how she came to find us:
When I was first introduced to computers and then the Internet, I trawled lists for any information on surnames that I had found. Around three years ago, I came across a message posted by Neil Stables concerning the Stables family in Yorkshire (can't remember what list). I contacted him to see if there was any mention of a Thomas Royston in his information. He then sent me a copy of the Stables Family Tree of Allerton Bywater. I put this aside and literally forgot about it. Recently I checked Rootsweb, as I do on a regular basis and found the information about the Stables family that Michael Chance had placed on the web. Coming across an unusual name, I checked 'Goole' only to discover the marvelous website that Andy Stables had done. I was ecstatic to say the least when I found my Thomas Royston and Ann Stables on there. I then remembered about the Family Tree that I had been given and contacted Andy. Needless to say, I was only to happy to forward him along a copy. From the date on the tree, 1913, to turn up 90 years later, after going from England, to Canada, then Australia and back to England is a minor miracle.
Karen Stables, Toowoomba, Australia. Nov 2003.