Stables Wood and Stables Lane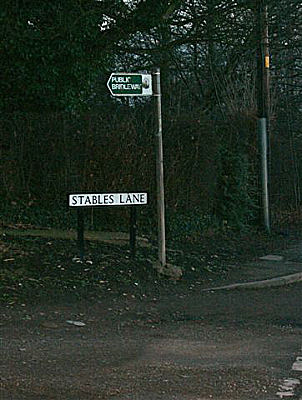 The signpost of Stables Lane, Barnburgh
(Picture kindly supplied by Jim Wild)
On the outskirts of Barnburgh there is a small wood called 'Stables Wood' and leading up to it is a bridle track called 'Stables Lane'. The wood may have been named after our ancestors because in the Tithe Award of 1839 we are shown as 'occupying' all of the fields surrounding the wood, although at this time the Wood (plot no. 124 in the Tithe Award) is actually owned by Charles Eyston Esq. and called Cliffe Wood.
The lane itself was originally called 'Stables Wood Lane', as it connected the village to the Wood. This has been shortened over the years to 'Stables Lane' and the locals now refer to it as 'Mucky Lane' because it remains un-metalled to this day.
Stables Wood is shown just North of Plot 123 on the Tithe Map. Stables Lane runs from Plot 77 to Plot 58.