Mary Susannah Stables (b. 1850 Harlington)
This biography was kindly supplied by Jim Wild
Mary Susannah Stables, the third child of John Stables(b1820)and Mary Kitchingman(b1821)was born in Harlington in 1850. Her marriage on 20th December 1874 to Joseph Boggis (b 1847 Clerkenwell) took place at St Olave Southwark.
In 1881,living at 8 Mary Street Rotherhithe,with Joseph in employment as a Warehouse Porter, there were two children Arthur J Boggis and Florence Jane Boggis.
Two further children were born in 1884 and 1887.Between 1887 and the 1891 census the family had moved to 25 Priory Hill Dover, Joseph's occupation recorded as Carman. Florence Jane died in 1888 in Dover.
Mary Susannah died in 1894 at the age of 43. Joseph Boggis died in 1897.
Mary Susannah's chidren were:
Arthur John Boggis 1878-1900
Florence Jane Boggis 1880-1888
Mary Susannah Lilian Boggis 1884-1968
William Forster Boggis 1887-1962
Charlotte Dorothy Boggis 1890-1960
Gweneth Millard, the granddaughter of Mary Susannah has kindly given permission to show this photograph of the Boggis family which was taken in the 1890s: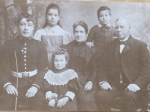 Joseph and Mary Susannah Boggis and family
From left to right they are: Arthur John, Mary Susannah Lilian, Charlotte Dorothy, Mary Susannah, William Forster & Joseph