The following are transcriptions from the headstones of the graves of the Stableses that still exist in St. Peter's Churchyard. The most notable one is that of Ann Stables, which indicates that she suffered terribly before she died. Unfortunately, she died just before the introduction of the 'modern day' death certificates, so it is impossible for us to determine what she died of.
These headstones are in the main churchyard, enclosing the church itself.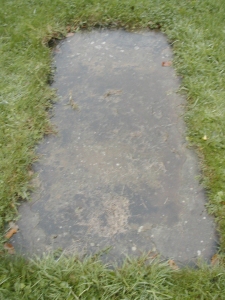 In loving memory of Ann[1]
wife of William Stabel of Barmbro.
Departed Dec 1st 1833. Aged 63 years.
Physicians were in vain
Death gave ease when God did please
And freed me from my pain.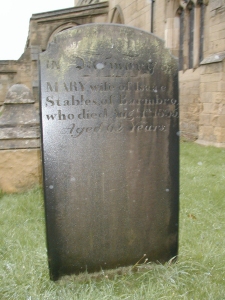 In memory of Mary[2]
wife of Isaac Stables of Barmbro
who died Aug 1st 1835.
Aged 62 years.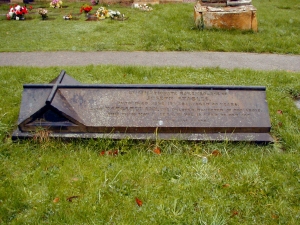 In affectionate rememberence of
Joseph Stables who died June 12 1854. Aged 46 years.
Also Margaret Ann the beloved daughter of the above.
Who died May 7th 1865 in the 18th year of her age.
"Her end was peace"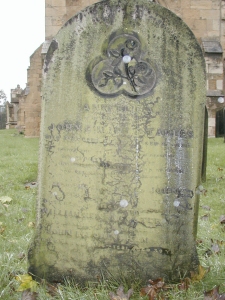 Ann Eliza
Daughter of John[3] + Mary Stables
died Feb 14th 1863 aged 17 years.
Before this gentle rose bud bloomed
The Saviour's call was given
This precious flower so loved on Earth
Now brightly blooms in Heaven.
Also the above named John
who died at Doncaster Oct 22 1869 aged 49 years.
William Henry Foster their son died January 19 1871 aged 23 years.
John Kitchingham their son died Oct 16 1881. Aged 30 years.

Memorial Inscriptions from the 2nd Churchyard at St. Peter's Church, Barnburgh
In loving memory of
Alice Ann
the beloved daughter of
Joseph & Alice Stables (of Harlington)
died Dec 1st 1913
aged 20 years.
Peace Perfect Peace.
Also Esther daughter of the above
and wife of Fred Wilkinson
died April 5 1921 aged 26 years.
Earth's night shall pass
and Heaven's fair morn shall greet thee.

In memory of John Stables
who died April 26 1933 aged 40 years.
Also his wife Frances Naomi
who died Feb 6 1973 aged 82 years.

To the memory of my dear wife
Edith Annie Stables
who departed this life 11th May 1956
aged 65 years.
"She lived for those she loved
and those she loved remember"
Also her dear husband James Widdison Stables
died 17th Dec 1961 aged 76 years.
Reunited.

(On a plaque honouring men of this parish who fought in WW1)
1911 Roll of Honours 1919
Stables F.W.
Stables W.

(On a plaque honouring men of this parish who fought in WW2)
In honoured memory of the men of this parish who gave their lives in the world war 1939 – 1945.
J.Hirst D.Stables[4]
J.A.Sewell L.Walsh
And in gratitude for the safe return of those whose lives were spared.

(Scratched on the wall up inside the Bell Tower)
Ringers 1901-1902
H. Bullock
G.Griffiths
W. Stables
Ringers 1903
W.Stables

We have discovered two references to Stableses in the Barnburgh Parish Magazine:
| | |
| --- | --- |
| | The January 1912 Issue lists 'W. Stables, Churchwarden' on the Front Cover. |
| | The December 1953 Issue (Vol. 7 No.12) has the following message inside: 'Birthday Greetings to Michael Stables born January 7th, 1952'. |