The Family of Oswald Stables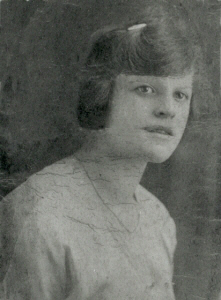 Oswald and Annie Maria Stables of Darfield had an amazing family of 17 children and I have included here the information that is known about them from references in local newspapers, etc.
The picture on the right is Oswald and Annie's youngest daughter, Rhoda Wilhelmina Stables.
All of the transcripts on this page were taken from the research notes of Victor Stables and Michael Chance. The photographs were also kindly supplied by Michael.
Oswald and Annie's children were as follows:
Mary Ann Stables (1881-1937)
Albert Stables (1882-1955)
William Stables (1884-1965)
Benjamin Stables (1885-1925)
James Stables (1887-1963)
Ethel Amanda Stables (1888-1898)
Ada Stables (1890-1970)
Denis Alvyn Stables (1891-1974)
Annie Stables (1892-1892)
Arthur Stables (1893-1950)
Horace Charles Stables (1894-1936)
Oswald Stables (1895-1976)
Ernest Victor Stables (1897-1959)
Doris May Stables (1899-1974)
John Stables (1900-1900)
Douglas Stables (1902-1985)
Rhoda Wilhelmina Stables (1903-1923)
Rhoda Wilhelmina was the youngest of Oswald and Annie Maria's 17 children and was born in 1903 on 18th October, the same date as her brother Ernest. When she was 19 she married Alfred William Chance, a haulage hand, whose sister Esther was to marry Rhoda's brother Ernest two years later. They had had to get married as Rhoda was pregnant. Tragically, three days after their son, Jack, was born, Rhoda died. The doctor who attended her said that she was far too young to have children and said as much on her death certificate. The family was distraught, and her mother, Annie Maria, who died the following year, was said to have died of a broken heart. Jack was taken in by Annie Maria at the Rising Sun, but after her death, he went to live with his paternal grandparents for a while before being taken in by his Uncle Ernest and Auntie Esther. Alfred William later re-married and died in Wombwell in 1986.
Her photograph, at the top of the page, was very kindly provided by Michael Chance.
Douglas was the youngest son of Oswald and Annie Maria Stables and was born at the Rising Sun Inn in 1902. After leaving school at 14, he got a job in the office of Darfield Main Colliery, He then went on to be a mechanic for Camplejohn's buses in Darfield, later becoming a bus driver, working for Camplejohn's & Yorkshire Traction. He later became an inspector for them & prepared drivers for their P.S.V.s. On 9th September 1925, he married Winifred Wood at Cawthorne Parish Church. Although they were to live in Cawthorne for most of their lives, they lived for while in Darfield, Wilthorpe & Almondbury. Douglas said that he never knew which house to come home to! They had three children; Douglas Neil, Patricia Mary and Carolyn Winifred Vaughan. During the Second World War, Douglas served with the Royal Electrical & Mechanical Engineers. He was an accomplished pianist, playing by ear & could play just about anything when asked. He also was very good at billiards, once winning a cup, and enjoyed motor bikes, owning one up to the 1930s. He was always well liked and respected, as was shown at his retirement party. Winifred died in 1975 at the age of 75. Douglas lived until 1985 aged 83, the last surviving child of Oswald & Annie Maria.
Doris May was the third surviving daughter of Oswald and Annie Maria Stables and was born in Darfield on 25th June 1899. In 1921 she married John Arthur William Coward who lived in Low Valley, Darfield. They had four children together, Gordon, Doris, Joan and Betty. John died aged 56 in 1954, Doris surviving him by twenty years. After his death she lived in a bungalow on Cover Drive in Darfield. Due to ill health she then went to live with her daughter Joan & her family in Pitt Street. She is remembered by her grandson as "a wonderful and kind lady who never had a wrong word to say about anyone. She liked to go shopping to Barnsley most Saturdays and would spend most evenings sat in front of the television with her crotchet". Doris & her husband are both buried in Darfield Cemetery.
Ernest Victor was born at the Rising Sun in Darfield on 18th October 1897. When he was 19, he joined the Army, as had five of his brothers before him. He originally signed up with the York & Lancs, but later transferred to the Lancashire Fusiliers. According to a report in the South Yorkshire Times, he had only been out in France about a month when he was wounded and sent to a military hospital in Exeter. Unfortunately his military papers have not survived so nothing further is known about his time in the army, although several photographs have survived. In 1924 he married Esther Chance at Darfield church. Esther was the sister of Alfred William Chance, who had married Ernest's youngest sister, Rhoda Wilhelmina, two years previously. Ernest worked all his life as a by-product worker, but his love was in the licensing trade, and apparently he could remember whole rounds of drinks and add up the prices in his head. He had the chance of taking over the Rising Sun when his father retired, but Esther did not want pub life. As a consequence they were short of money the rest of their lives. They set up home in School Street, Darfield, where they had five children, Victor, Rhoda, Geoffrey, Anthony and Janet. In addition to this, when Ernest & Esther's nephew, Jack Chance was growing up, they took him in for a number of years and brought him up as one of the family. Ernest died in 1959 at the age of 61. Esther continued to live in Darfield, but sadly she developed dementia, and died in Havenfield Old People's Home in 1978.
Oswald Stables (1895-1976)
Oswald was the eighth son of Oswald and Annie Maria and was born in Darfield in 1895. He was sent away to school in Penistone where he was boarding in 1911 aged 15. He also joined the York & Lancs Regiment in 1915 and fought in France. The following year, he was one of a party ordered to capture a German trench. The operation was carried out successfully but during subsequent shelling, Oswald was wounded in the shoulder & the leg by shrapnel. As a consequence, he was discharged from the army in 1917. He was a clerk and a rate collector, eventually working for a turf accountant. In 1929 he married Ethel Whitworth Short at Darfield church and they set up home in Darfield. When his father made his will, Oswald was named as a trustee. Oswald senior had stipulated that an insurance policy which had been taken out for his grandson, Jack Chance, (the son of his youngest daughter Rhoda Wilhelmina, who had died three days after Jack was born), would be looked after by the trustees and paid out when Jack reached the age of 21. However, when the time came, it was discovered that Oswald junior had spent all the money. Ethel paid Jack the initial sum invested but it was minus the interest which would have accrued.
Oswald suffered very badly from eczema which had plagued him for much of his life and the story is told of him visiting a faith healer, who prescribed a mixture of molasses and nettles which he regularly took. It completely cured him. Ethel died at Dafield in 1963 aged 70, but Oswald lived to the age of 80, dying in 1976. He was buried in Darfield Cemetery.
Horace was born in Darfield on 24th July 1894. He didn't follow his father into the licensing trade, but became a butcher's assistant, and is described as such in the 1911 census when he was 16. He worked for a while at the Maypole Dairy where amongst other things, he made butter sculptures which were popular at the time. He was a keen card player & enjoyed gambling. He also loved dancing. Like his brothers, he joined the army in the First World War, serving in the Veterinary Corps, as many butchers did. Unfortunately his military papers have not survived, so we don't know much about his service in France. He met Frances White, whose father was a butcher, and they became engaged. She was a Roman Catholic & Horace changed his religion in order to marry her. However, the relationship didn't last & in 1927, when he was 32, he married Mary Heloise Turnbull, who was also a Roman Catholic. Their first child, Brian, was born at Pett Level, near Rye in Sussex, but the family moved to Rhyl in North Wales, where they settled, Horace setting up his own butchery business there, Their next son, Peter, was born in Wales but when Oswald was taken ill, they moved back to Yorkshire where Horace ran the Rising Sun along with his brother Ernest, their third child, Harry Keith, being born in Wombwell in 1934. In later life, Peter emigrated to South Africa and Keith to Canada, where they still live. Some time after the birth of their third son, Mary left Horace and the children. The split affected Horace very badly and he suffered from bouts of depression. Added to this, the business was in debt. Things came to a head just after Christmas 1936 and he tragically committed suicide by puttting his head in a gas oven. By this time he had added another Christian name, Charles, as his death certificate confirms. The coroner's inquest stated that there was "not sufficient evidence to enable Coroner to say whether the said Charles Horace Stables was of sound mind and understanding or not". After Horace's death, the children were brought up for ten years by their grandmother. In 1940 Mary married John Palfreyman, who died in 1951. She then went to live in Canada for 18 years, where she married Bill Reeves. After Bill's death she came back home. Mary lived until 2005, when she died at the age of 94.
Arthur was the first of Oswald & Annie Maria's sons to be born in Darfield and he was born at the Rising Sun in 1893. As a boy he worked as a grocer's assistant at Hunter's Tea Stores in Darfield. On 12th November 1914 he married Alice Jackson, the daughter of Samuel Jackson, who was licensee of the Railway Hotel in Wombwell. In December 1915, Arthur, along with three other brothers, drove to Pontefract to enlist and he served in the York & Lancs Regiment during the First World War. While he was in France, Alice gave birth to a daughter, May, who tragically died at one day old. Arthur was given special leave to console the family. He was wounded twice, the second time being severe enough for him to receive an army pension when he was demobbed. After the War, Arthur and his family left Wombwell and he set up his own grocery business in Goldthorpe, later working for C.E. Charlesworth's in Barnsley. In 1938, tragedy struck again, as their eldest son, Leonard died aged only 23. They had six surviving children, Leslie, Arthur, Mary Ann, Joan, Clifford and Doreen. After eight years' illness, Arthur died on 19th May 1950 at the age of 57, Alice surviving him by 32 years.
Annie died at the age of just 4 months and was buried in Darfield Churchyard. Her memorial can be seen here.
Denis Alvyn was born on 28th November 1890 at the Prospect Tavern, Hoyland and was baptised at Wath church. Like many of Oswald's children, he started his working life helping out in the pub, but by the time he married Annie Neville, on 4th November 1915, he was a dairyman, and there is rather a nice photograph of him, taken around this time, driving his milk float. Annie was a Methodist, and of course they are not supposed to drink alcohol. On a little round table, by his chair near the front window, always sat a bottle of whisky. When anyone walked into the room Annie made a point of telling them it was for medicinal purposes! A lot of her family had nothing to do with them because Denis came from a line of publicans. Only one week after marrying Annie, he joined the Yorks & Lancs Regiment and went to fight in France. Whilst he was away his first son, Eric Neville, was born and after the War he and Annie had three more children together, George Leslie, Annie Brenda and Denis Roland. They lived on Snape Hill Road where it appears Denis had a shop for a short time, and they continued to live over the shop after it closed. When his father died, Denis bought the Rising Sun & three cottages close by. In later life he got a job stoking the boilers at Darfield Main. He died at the breakfast table on the 23rd January 1974 aged 83, Annie dying the following year, also aged 83.
Ada was the second surviving daughter of Oswald and Annie Maria Stables, her elder sister, Ethel Amanda, dying in 1898 at the age of ten. When she was 30, she married Harold Bellamy, a joiner who lived in Wombwell. Harold had been awarded the Croix de Guerre during the First World War. They had two daughters, Alice, who died when only a few minutes old, and Annie, who was born in 1925. In 1932, at the age of 41, Harold died of tuberculosis, leaving Ada to bring up Annie on her own. They lived in College Terrace, Darfield, where Ada nursed her father, Oswald, before his death. After over ten years of widowhood, Ada met and married George Thompson, a milkman, who was 16 years her junior. They continued to live in Darfield where Ada died in 1970, aged 80. Seven years after Ada's death, George married Margaret Greenbank, a widow. George died in Darfield in 1992 at the age of 86.
Ethel Amanda was born at the Prospect Tavern in Hoyland in 1888. At the age of ten she contracted Phthisis Pulmonalis (Tuberculosis) and died at Darfield on 8th August 1898. Her memorial in Darfield churchyard can be seen here.
James was born at the Queen's Hotel in Winterwell in 1887 and was baptised at Darfield church on 6th March. When he was growing up he worked as a barman at the Rising Sun in Darfield but then became a brewer's foreman. In later life he was a transport foreman. He had a romantic attachment to his cousin, Mary Ann Ayrton, the daughter of his father's sister, Rosanna Stables, who had married Henry Ayrton, and they had a child together, Douglas Stables Ayrton, in 1908. Because they were not married, Douglas was brought up by his grandmother, Rosanna, in Bradford. In 1911 James married Mary Hannah Craven Jackson at Darfield church. They went to live in Sheffield, where their son, James Roy, was born in 1913.
On 3rd December 1915 James joined the York & Lancs Regiment and went over to France to fight in the First World War, the eldest of Oswald's sons to do so. In June 1917 he was wounded in action and sent to the Military Hospital in Dundee, later recuperating at his parents' home. He had been promoted to Corporal and Acting Sergeant Major, but because he overstayed his furlough by over four days, he was reduced to private in December of that year.
After the war he returned to Sheffield where he lived for the rest of his life. Mary died there in 1929 and four years later, James re-married. This time to Margaret Matheson, a 49 year old spinster. James died in 1963 followed by Margaret ten years later.
Benjamin was the third son of Oswald & Annie Maria Stables and was born in Wath-on-Dearne in 1885. As a teenager he worked as a Grocer's assistant but in later life he was a clerk at the Dearne Valley Colliery. In 1914, just after the outbreak of the First World War, he married Ida Berresford, a school teacher, at Darfield church. They had one child together, Allen Benjamin, who was named after Ida's father. After they had been married eleven years, Benjamin contracted pernicious anaemia & died at the early age of 40. He was buried at Darfield Cemetery. After his death, Ida brought up their son alone, and eventually moved to Tyers Hill in Darfield, where she died in 1967 at the age of 78.
Extract from The Swinton & Mexborough Times. Dated 28th November 1925.
Ben Stables, age 40, died on 20th November 1925.

Mrs B Stables, Darfield, wishes to thank the Staff & Workmen of the Dearne Valley Colliery, Members of the Conservative Club, and all friends and relatives for sympathy extended during her sad bereavement.
William was born in 1884 at Wath-on-Dearne and christened on 1st June at Wath church. In 1906 he married Gertrude Burgin, and had two children, William Irving in 1908 and Ada in 1910. William Irving served in the RAF during the Second World War and was awarded the DFC in 1944 for "courage, fortitude, & devotion to duty". When his children were baptised, William senior was working as a Colliery weighman, but his passion was photography and he eventually set up a studio in Darfield, where he not only photographed members of his own family and people in the locality, but also became well-known for his postcards of views of Darfield, many of which still exist. Gertrude died in 1952 at the age of 65 and William died in 1965 at Middlewood Hospital in Bradfield aged 81. They were both buried at Darfield Cemetery.
Albert was the only one of Oswald's sons who went into the licensing trade. His biography and photographs can be viewed here.

Mary Ann was the eldest child of Oswald & Annie Maria Stables & was born in Wath-on-Dearne in March 1881, a full seven months before they married, hence she was registered at birth as Mary Ann Stables Vaughan. In 1902 she married Thomas Hope Spooner, the son of George Spooner, the Undermanager of Darfield Main Colliery. The story goes that she eloped with Thomas to escape the drudgery of having to help bring up her younger brothers and sisters. Thomas was very much involved with the mining community and was secretary of Darfield Main N.U.M. for 24 years. He liked his drink & is remembered standing with his back to the fireplace saying "where's the cat, where's the puss?", in order to tease the dogs, when in his cups. Unfortunately he could get violent when drunk & it is said that he used to beat Mary Ann when in this state. However they were married for 35 years, until Mary Ann died in on 7th October 1937, having three children, Ethel Mary. Isabel & Peter Oswald. Thomas lived for another nineteen years, dying on 15th November 1956 at Low Valley. Both were buried at Darfield Cemetery.
Extract from The Swinton & Mexborough Times. Dated 8th October 1937.
SPOONER - The death occurred yesterday of Mrs Mary Ann Spooner (56), wife of Mr Thomas Spooner, of School Street, Darfield. Mr Spooner is a Union official at Darfield Main Colliery. Mrs Spooner had lived in the district all her life, and was a daughter of the late Mr and Mrs Oswald Stables, formerly licensees of the Rising Sun Inn, Darfield. The funeral will take place at Darfield Cemetery to-morrow.