William Stables (b.1855 Newhill, d.1913 Wath)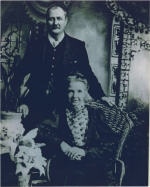 William and Harriet Stables
William was the son of
James Stables and Mary Stenton
of Newhill and was baptised at Wath Parish Church on February 25
th
, 1855. He married Harriet, who was from Wath.
His first job was in the colliery offices at Newhill Pit but by the age of 24 he had become a publican at Newhill, by which time his mother had died and his father had re-married and become the licensee of The New Inn at Wath.
William went on to take over The New Inn from his father and during this period he was elected to the Urban District Council, topping the poll.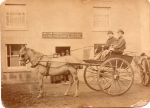 William Stables outside the New Inn
He retired from The New Inn due to ill health but he was unable to settle to the inactivity of retirement and when a vacancy arose at The Cross Keys Hotel he came out of retirement to take over.
Sadly, ill health forced him to retire for a second time and he took up residence, in one of his own properties, at 23 Burlington Terrace in Wath, which was immediately adjoining the hotel.
He owned several dwellings which he let out for rent and when he died on February 13th, 1913 "his massive coffin of unpolished oak was borne by 8 of his tenants".
Newspaper reports at the time stated that he was a generous person who was "never to a pint if a man was hard up".
Chief mourners at his funeral were:
Mrs Harriet Stables (widow). Mr S. Stables (son). Mr & Mrs W. Winstanley. Mr & Mrs W. Kraft. Misses Chrissie, Mary and Ada Winstanley. Mr & Mrs O. Stables. Mr. L. Barber. Mr & Mrs G. Stables (Swinton). Mr & Mrs A. Stables (Newhill). Mr and Mrs Spooner (Darfield), Mr and Mrs W. Stables (Darfield). Mr D. Stables (Hoyland).
This biography is based on an original that was written by Victor Stables and included amongst his research notes.
The Will of William Stables
This is a full transcript of the will of William Stables, which is held at First Avenue House. It was kindly provided by Michael Chance for publication here.
I William Stables late of the Cross Keys Hotel Wath upon Dearne in the County of York Innkeeper but now of Burlington Terrace Wath upon Dearne aforesaid of no occupation hereby revoke all former Wills & testamentary dispositions made by me & declare this to be my last Will. I appoint my son in law Wilfred Winstanley of the New Inn Wath upon Dearne aforesaid Innkeeper & my son Sam Stables (hereinafter called my trustees) to be the Executors & Trustees of this my Will. And I give to each of them the sum of Fifteen pounds for his trouble in acting as such Executor & Trustee. I give all my plate linen china glass books pictures prints furniture & other household effects & also a legacy of Fifty pounds to my dear wife Harriet Stables absolutely. And I direct that the last mentioned legacy shall be paid within one calendar month after my decease. I give to my nephew George William Stables (son of my late brother Charles Stables) & to my niece Ethel Evans (daughter of my wife's sister Mrs Ellen Evans) the sum of Twenty five pounds each free of legacy duty. I devise my eight freehold messuages or dwellinghouses situate in Burlington Terrace Wath upon Dearne aforesaid to the use of my said wife Harriet Stables during her life & from & after her decease to the use of my said son Sam Stables his heirs & assigns for ever. I devise my nine freehold messuages or dwellinghouses situate in Firth Road West Melton in the County of York to the use of my two daughters Mary Winstanley the wife of the said Wilfred Winstanley & Christiana Kraft the wife of Wilhelm Kraft of Birdwell near Barnsley Coke Oven Constructor their heirs & assigns for ever in equal shares as tenants in common. I give all my real & personal estate not hereby otherwise disposed of unto my Trustees Upon trust that my Trustees shall sell call in & convert into money the same or such parts thereof as shall not consist of money & shall with & out of the monies produced by such sale calling in & conversion & with & out of my ready money pay my funeral & testamentary expenses & debts & the legacies bequeathed by this my Will & the legacy duty on such of the said legacies as are bequeathed free of duty & shall stand possessed of the residue of the said monies In trust for all my children the said Mary Winstanley Christiana Kraft & Sam Stables in equal shares. And I declare that notwithstanding the trust for sale hereinbefore contained of my real estate my Trustees may in their uncontrolled discretion postpone the sale & conversion of any part thereof for so long as they shall think fit & that the rents profits & income to accrue from & after my decease of & from such part thereof as shall for the time being remain unsold & unconverted shall after payment thereout of all incidental expenses & outgoings be paid & applied to the person or persons & in the manner to whom & in which the income of the proceeds of such sale & conversion would for the time being be payable or applicable under this my Will if such sale & conversion had been actually made. But notwithstanding any such postponement of conversion of my real estate the same shall for the purpose of transmission be considered as converted from the time of my death. In witness whereof I have hereunto set my hand this thirteenth day of July One thousand nine hundred & ten.

William Stables (signed)

Wits: James Coakes, Walter Utley clerks to Messrs Nicholson & Co

Solicitors Wath upon Dearne.
Probate for William Stables
This is a transcript of the probate record for William, taken from the Wills Index that is held at First Avenue House. His estate was valued at just under £2700 for probate purposes. It was kindly provided by Michael Chance for publication here.
William Stables of Burlington Terrace Wath-upon-Dearne Yorkshire died 13 February 1913. Probate Wakefield 9 August to Wilfred Winstanley innkeeper & Sam Stables chauffeur.


Effects £2685 9s.