Mary Ann Stables (b. 1858 Tickhill, d. 1937 Stairfoot)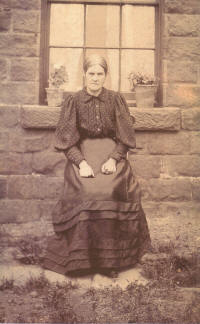 Mary Ann Stables
(Click the image to enlarge)

Walter Burton Stables, Mary Ann senior (holding grandchild), and Mary Ann Stables/Gelder (left-to-right).
(Click the image to enlarge)
Mary Ann Stables was the grand-daughter of Michael Stables, who started the Tickhill Dynasty, and was born in Tickhill in 1858.
She had an illegitimate daughter, also called Mary Ann, in 1878.
In 1883 she married Richard Leech in Barnsley, but he died a few months later. The following year she married John Gelder, and went to live with him in Ardsley. John brought up Mary Ann junior, and she became known as Mary Ann Gelder, although when she married Harry Burton in 1912 she used her original surname.
Mary Ann senior had seven other children with John, two dying in infancy. They moved to Stairfoot, another part of Ardsley, just before 1901 & Mary Ann died there in 1937.
The photographs on this page were very kindly supplied by Mrs. Maureen Hill, whose late husband was Mary Ann senior's great-grandson. The biography was kindly supplied by Michael Chance.
Harriet Ann Burton Stables (b.1905)
Harriet was the daughter of Mary Ann Stables and Harry Burton and was born in 1905, although her parents did not marry until 1912, hence her unusual name.