Mary Hannah Stables (b. 1879 West Melton)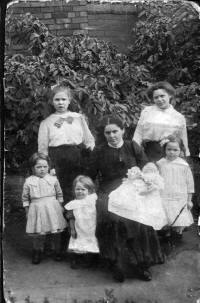 Mary Hannah Wright (née Stables) and her six daughters
Click photo to enlarge.
Back Row: Agnes (Left) and Annie Elizabeth (Right)
Front Row (Left-to-Right): Amy, Lilian, Mary Hannah
with Janet, Mary.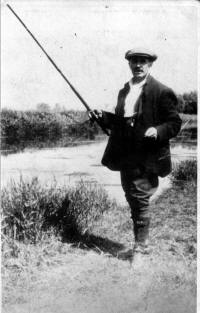 James Wright fishing (click to enlarge)
The photographs and biography on this page were very kindly provided by Pat Simpkins.
Mary Hannah Stables was the second child of Samuel William Bisby Stables and his wife, Annie Elizabeth Rotherham. She was born at West Melton in 1879.
Mary Hannah married James Wright, a miner from Chapel Street, Rawmarsh, on 2nd. January 1899 at Rotherham Parish Church. Her older brother, Samuel Bisby Stables, was a witness.
Mary Hannah and James lived at Peasehill Street, Rawmarsh, then Foljambe Street, Parkgate and finally Beartree Road, Parkgate. They had 13 children, 10 girls & 3 boys, but 2 died in infancy.
The photograph of Mary Hannah and 6 of her daughters was taken in July 1914.
Mary Hannah had written on the back of the photograph in neat copperplate writing " Twigg Agnes Wright she didn`t want to be took. From your loving sister and family. Mary Ann. xxxx from All"
James Wright was a quiet man, who worked in the mines from the age of 14 until his death from pneumoconiosis in 1932, aged 55 years. His death was sudden and unexpected, and stunned Mary Hannah. James had been a keen fisherman, who waited on tables at the Travellers Rest in Parkgate, to earn extra money to help support his family. After his death, Mary Hannah took in washing, charging 1 shilling and sixpence for a dozen articles ( washed, mangled and ironed). Her older daughters helped with the washing and ironing, and the younger children delivered the laundered garments to her customers.
Mary Hannah lived to the grand old age of 90. even though she suffered with leg ulcers for many years, caused by dye from her black stocking seeping into a cut, after knocking her leg on the zinc bath, whilst bathing her youngest child. She had a hard life, but never lost her sense of humour, frquently telling amusing stories from her childhood. She always said that as a child she didn't know whether she was a Bisby or a Stables, but she knew there was a secret in the family.
She and her brother, Samuel, attended Brampton Ellis School, for which their father paid 2d. a week. She said that she remembered moving to Parkgate at the age of 7, but whether her education continued after that remains a mystery. If she and Samuel did attend school in Parkgate, it would probably have been Christ Church School, and later Ashwood Road School, which was built in 1887.
She told the family that her grandfather had been a butcher and slaughterman, working at Wentworth Woodhouse, and travelling to London to slaughter cattle. Could that have been John Bisby?
Mary Hannah died in 21st. March 1970, at 57, Beartree Road, Parkgate, surrounded by her family.