William Stables (b. 1884 Wath, d. 1965 Bradfield)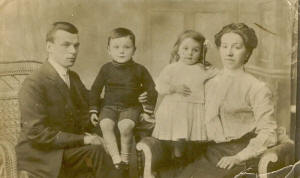 William & Gertrude Stables 1913
(Click photograph to enlarge)
William was the second son of Oswald Stables and was born in Wath-Upon-Dearne in 1884.
He married Gertrude Burgin in 1908 and they had two children: William Irving Stables, born in 1908, and Ada Stables, born in 1910.
This photograph of the family was taken at Blackpool in 1913 and was very kindly supplied by Raymond Guy, whose son has married the grand-daughter of Ada Stables.
Raymond tells us (January 2005) that Ada is still alive at the age of 94 but William Irving was sadly involved in a fatal car crash in Nottingham.
Raymond's son married the Ada's granddaughter.
The information on this page was very kindly supplied by Raymond Guy