George Stables (b. 1865 Street)
George was the son of George Stables, a descendent of Isaac Stables and Susannah Broom. He married Mary Ann Hague in 1892 and they had a total of 15 children. Tragically, only two were survive, thirteen of their children dying in infancy.
George Stables, b. 1865, d. 1949
+Mary Anne Hague b. c.1871 m. 1892, d. 1923
├──Fred Stables b. 1906, d. 1979
│ +Annie Hocking b. 1912/1913 m. 1934
│ ├──Margaret Stables b. 1934
│ ├──Ronald Stables b. 1936
│ │ +Valerie Booth b. 1945 m. 1963
│ │ └──David Simon Staples b. 1966
│ │ +Sarah Jane Dobson b. 1969 m. 1994
│ │ └──Susan Staples b. 2002
│ ├──Maureen Stables b. 1936
│ └──Cynthia Stables b. 1938
└──Leonard Stables
+Avril Walker
└──Muriel Stables
Family legend has it that George lost an eye in the Boer war which may explain why he was a surface worker at the mine. It is also rumoured that he won Best of breed at Crufts with an old English sheepdog, although I have been unable to find any evidence of this.
Both George and Leonard worked at Elsecar main colliery. Fred flew in the face of tradition by going to work at Alf Cooke Ltd. (Printers) in Leeds.
Although Ronald's birth certificate says he is a Stables, he swears he has always been known as 'Staples' and so the family name appears to have mutated.
The four children of Fred and Annie were put into Street Lane orphanage, Leeds in 1940 and the family was split up.
That is until 2010, when one of Cynthia's daughters, who lives in New Zealand, found Dave Staples through this website and arranged a reunion between her mother and Dave's father.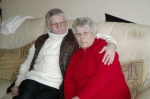 Ronnie and Cynthia meet after 50 years
Two years after this reunion we were contacted by the granddaughter of Margaret Stables, the eldest sibling. Sadly both Cynthia and Ronnie had died so were never reunited with their sister, but their families were able to meet and share photographs and stories.
The information on this page was very kindly supplied by David Staples