Frank Stables (b. 1868 Wath, disappeared 1911)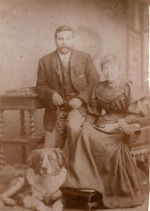 Frank and Eleonora Stables
Frank was the son of Charles Stables (1830-1891), of Wath, and his wife Mary Ann Stephenson. Like his father, he initially went into the licencing trade, taking over the running of the Star Inn in Wath after his father's death in 1891. A couple of years after this he met & married Eleanora Lehmann, a pianist, who was born in Hartlepool but moved to Yorkshire where she got a job playing the piano at Frank's cousin, William Stables's pub in Wath. Frank eventually became a music teacher for a time. They both liked horse racing & it is said they first met at a race meeting. They had nine children together over the next twenty years, although two died in infancy. It seems that he mysteriously vanished in 1911 and was presumed dead in 1920.
If anybody has any information about Frank's disappearance and death, we'd love to hear from you.
Information and photograph kindly supplied by Rachel Ring
The Will of Frank Stables - Dated 1909
Kindly transcribed by Michael Chance
THIS IS THE LAST WILL & TESTAMENT of me FRANK STABLES of 2 Laughton Road Hexthorpe near Doncaster in the county of York Teacher of Music Firstly I direct the payment of all my just debts fueneral & testamentary expenses so soon as conveniently may be after my decease I give & bequeath all my household goods furniture glass china plate linen & effects including my piano unto my wife Ella Stables for her own use & benefit absolutely I give devise & bequeath the rest & residue of my real & personal property whatsoever & wheresoever of or to which I may be seised possessed or entitled at the time of my decease unto my executors & trustees hereinafter named upon trust to retain the same & to pay the income thereof unto my wife Ella Stables during her life so long as she remains my widow unmarried & from & after the death or remarriage of my said wife whichever event shall first happen then upon further trust to sell call in & convert into money the said residue of my real & personal property & to divide the proceeds of such sale calling in & conversion equally between & amongst my six children Gladys Stables Edward Theodore Stables Olga Stables Kathleen Stables Winifred Stables & Dorothy Stables share & share alike & in case at the time of such division of my said residuary estate any of my said children shall not have attained the age of twenty one years then I direct that the share of any such child not having attained the age of twenty one years shall be reinvested in any of the trust investments by law allowed & the income thereof paid to such child until he or she shall attain his or her majority I appoint my wife Ella Stables & my brother in law Joseph Gomersall of the Blue Bell Hotel Hemsworth near Wakefield to be the EXECUTORS & trustees of this my will & lastly revoking all other wills heretofore made by me I declare this to be my last will & testament IN WITNESS whereof I the said Frank Stables the testator have hereunto set my hand to this my will the thirtieth day of August one thousand nine hundred & nine
Frank Stables
Wits: Fred A Jordan Solicitor Doncaster
G Sanderson Clerk with F A Jordan Solicitor Doncaster
On the 17th day of September 1920 Probate of this will was granted to Ella Stables the sole executrix.
The Probate of Frank Stables's Will - Dated 1920
Kindly transcribed by Michael Chance
BE IT KNOWN that Frank Stables of 22 Lockwood Road Doncaster in the County of York formerly of 2 Laughton Road Hexthorpe in the said County died on or since 25th day of May 1911 at some place unknown
AND BE IT FURTHER KNOWN that at the date hereunder written the last Will & Testament
of the said deceased was proved & registered in the Principal Probate Registry of His Majesty's High Court of Justice, & that administration of all the estate which by law devolves to & vests in the personal representative of the said deceased were granted by the aforesaid Court to Ella Stables of 29 Ashwell Street in the city of Bradford
Widow the Relict of the said deceased the surviving executor named in the said Will.
Dated the 17th day of September 1920
Gross - £434 . 10 . 0
Net - £9 . 10 . 0
By Order of Motion dated 22nd March 1920