Stables Memorials in Maltby Cemetery
Photos on this page was very kindly supplied by Barbara Kroll of Australia, the grand-daughter of Blanche Bell (née Stables), and John D. Smith, the grand-son of Minnie Gertrude Smith (née Stables).
The three Stables memorials at Maltby Cemetery.
Close-ups are shown below.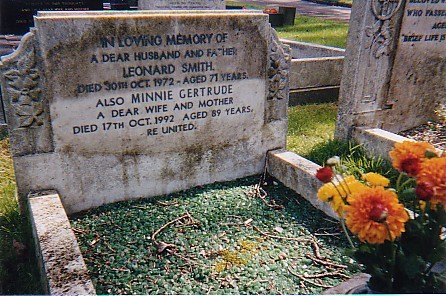 IN LOVING MEMORY OF
A DEAR HUSBAND AND FATHER
LEONARD SMITH.
DIED 30TH OCT. 1972 - AGED 71 YEARS
ALSO MINNIE GERTRUDE
A DEAR WIFE AND MOTHER
DIED 17TH OCT. 1992 AGED 89 YEARS.
RE UNITED.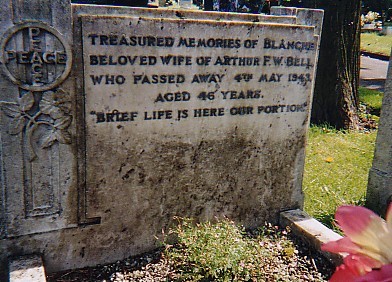 TREASURED MEMORIES OF BLANCHE
BELOVED WIFE OF ARTHUR F.W. BELL
WHO PASSED AWAY 4TH MAY 1943
AGED 46 YEARS.
"BRIEF LIFE IS HERE OUR PORTION"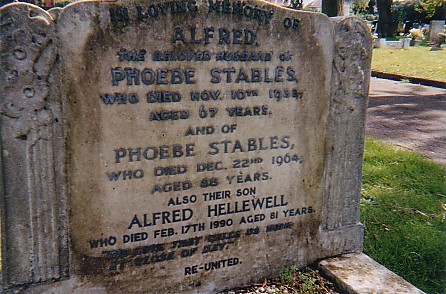 IN LOVING MEMORY
ALFRED
THE BELOVED HUSBAND OF
PHOEBE STABLES
WHO DIED NOV. 10TH 19??
AGED 67 YEARS.
AND OF
PHOEBE STABLES,
WHO DIED DEC. 22ND 1964.
AGED 88 YEARS.
ALSO THEIR SON
ALFRED HELLEWELL
WHO DIED FEB. 17TH 1990 AGED 81 YEARS.
???
RE-UNITED