Family Bible of Mary Ann Stables and Charles Podmore
These are photographs and transcriptions of pages from the Family Bible of Mary Ann Stables (b. 1860, Darfield) who married Charles Podmore. This Family Bible is now in the private possession of relatives of Reg Dyson of Otley (Mary Ann's grandson) and it is with his kind permission that I include them here.
In Victorian times it was very common for couples to be presented with a Family Bible when they married, in which details of births, marriages and deaths within the family were recorded. Often these were handed down from generation to generation and provide a valuable resource for genealogists where they still exist. So far this is the only one featuring a Stables that I have come across.
The photographs on this page may take a short while to download but they are worth the wait, as this is a very beautiful book.
Page 1
Husbands
Dwell with your
wives according
to knowledge
giving honour
unto the wife.

The Family Register
of
Charles Podmore
Born at Stafford August 12th 1854
and
Sarah Richardson Townend
Born at South Hiendly Dec 26th 1850
Married
At Barnsley Pitt St. Chapel
October 20th, 1876


WIVES
Be in Subjection
to your own
Husbands

Charles Podmore
Born at Stafford
August 12 1854
Married at Barnsley
Pit St. Chaple
January 1st 1883

Mary Ann Stables
Born at Darfield
February 9th 1860
Married at Barnsley
Pit St. Chaple
January 1st 1883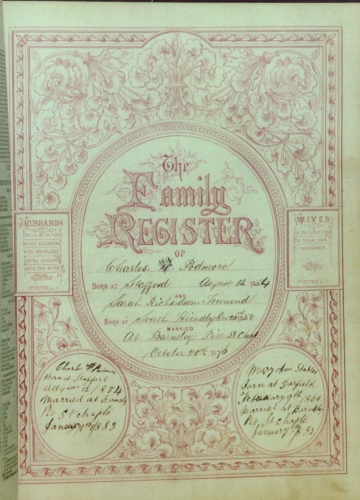 Page 2
For
Unto Us A
Child
Is
Born
Children's Names
Ethel Louisa Podmore
3-10pm Sept 16th 1877
Elizabeth Podmore
9-40pm Sept 19th 1878
James William Podmore
10-40pm Jany 16th 1880
Charles Alfred Podmore
11-0pm Sept 7th 1881
Lilian Podmore
10-45pm Nov 29th 1883
Betsy Miriam Podmore
4-45pm February 21st 1886
Mary Ellen Podmore
10-30pm June 10th 1888
Alice Mary Podmore
5-15am August 17th 1890
John Henry Bernard Podmore
1-45am October 26th 1892
Florence Annie Podmore
9-45am October 22nd 1895
Edith Hilda Podmore
9-15am May 25th 1898
Doris Podmore
2-10am Aug 2nd 1901
Norah Podmore
6-55am March 25th 1906
Marjorie Frost
18 July 1947
Evelyn Podmore
1st May 1939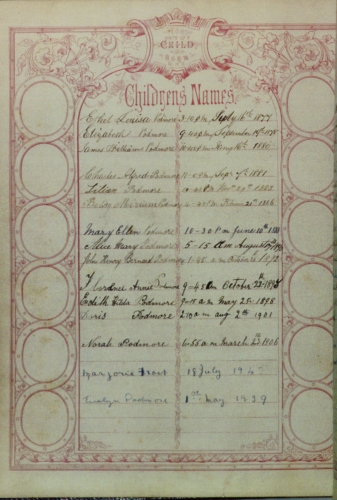 Page 3
What
Therefore
God
Have Joined Together
Let Not
Man Put Asunder

Marriages
Charles Podmore
Jan 1st 1883
Mary Ann Stables
Jan 1st 1883
Elizabeth Podmore Jan 1st 1900
Thomas E Lawson Jan 1st 1900
Ethel L Podmore May 1901
To Luke Lakin 1901
James w Podmore 10.3.04
To Mary Dixon 10.3.1904
Elizabeth Lawson
Harry Royston Nov 8th 1905
Lilian Podmore
Tom Marshall April 21 1908
Charles A Podmore
Elizabeth Pascoe Nov 14 1909
Florence A Podmore
George Bowley Jan 30-1919
Betsy Miriam Podmore
Edward John Douglas Feb 14th 1918
Edith H Podmore
L. W. Dyson
John H. B. Podmore
Fanny E Wright Aug 11 1923
Norah Podmore
S R Frost Aug 10 1929
Gordon Podmore
Pauline S. Powell Feb 2nd 1952
Raymond Podmore
Jus A. Collins March 31st 1956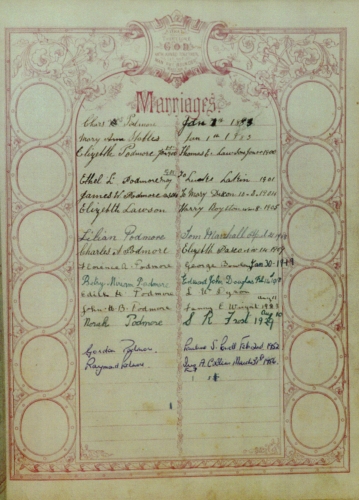 Page 4
I
Am The
Resurrection
And The
Life

Deaths

Sarah Richardson Podmore
Sept 6th 1882 Aged 31 years
Mary Ellen Podmore
June 11th 1888 age 21 hours
Alice Mary Podmore
July 17th 1891 Aged 11 months
Doris Podmore
Dec 15 1903 Age 2 years and 4 months
Matilda Ann Pepper
March 16 1914 Age 81 years
Charles Podmore
Feb 17 1919
Sam Podmore
May 28 1925
James William Podmore
Augs 25 1934
Charles A Podmore
1940

Mother
{Mary Ann Podmore}
née Stables

Oct 25th 1947

Elizabeth Podmore
Lilian Podmore
John Henry Bernard Podmore
Dec 24th 1959
Ethel Louisa Podmore
1966